BELINDA LEONTSINIS
Finding inspiration in the paintings of Chagall, and adding her own individual twist, these gorgeous quirky little pinch pots and plates are a  treasure to own and use everyday.
CATHERINE BRENNON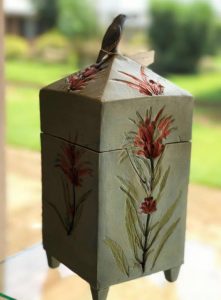 Catherine is best known for her  ceramic 'Dream Boxes' and lace impressed bowls.   "A vessel for things precious to you – be it a lock of baby hair or a love letter." says Catherine, whose clay slab built works are considered an incomplete piece of art until the owner fills it with what they deem treasured and valuable. Each Dream Box has a label which explains this objective, encouraging owners to let the artist know how they have been used.
CAROL HAYWARD FELL
Finding inspiration in ancient ceramic horse sculpture from earlier civilizations,  Carol  creates a body of work that is instantly recognisable, and won her numerous awards here in South Africa.  Little wonder that these irresistible one-of-a-kind horses have found their way into both private and public collections.
CAROLINE SCHULZ VIEIRA
Designer Caroline Schulz Vieira creates a range of handcrafted ceramic eatware for the joy of daily use. Her deliciously coloured glazes are an art form in themselves, and compliment the tactile high fired clay body she formulates for the range of platters, bowls and plates. Each individually fashioned item is 100% waterproof, dishwasher safe, freezer, fridge and oven safe.
CHANTAL MARTIN
With enormous passion for clay making and true to herself, newcomer and energetic  entrepreneur Chantal Martin produces a wide range of functional, quirky ceramics.   Into her clay shapes she carves, etches, fills and at times paints sayings as they pop into her head.
CHRISTINE WILLIAMS
Adding paper to her fine white porcelain clay, allows ceramic artist Christine Williams to manipulate the clay into elegant shapes and complex 'slab' construction. Her skill as a painter refines her work with seductive illustrations of birds and nature onto the smooth unglazed surface. The quality finish of these 'functional' art pieces have a seductive tactility that makes them all the more desirable
COLLEEN LEHMKUHL
Bright and bold, loose and joyful coupled with a skill and knowledge of her craft, makes each piece we discover in the studio of Colleen Lehmkuhl so very special. In between her passion for making pots, Colleen runs a busy ceramic teaching studio and heads up the Ceramics Southern Africa Gauteng Region… We love how her energetic enthusiasm for ceramics is uncontrollably infectious.
CORLIE SCHOEMAN
Corlie imprints patterns and lace into soft clay, then shapes them into bowls and platters that cry out for you to own. Her gorgeous range is then glazed in shades of grey, green and blue over white and terracotta clay.
CORRIE HOOK
Ceramic artist Corrie Hook presses layers of texture from found objects and adds delicately formed clay relief shapes to build up her intimate clay jugs, plates and little bowls. She then sets to work adding her trademark palette of coloured oxides and stains before glazing. Real little gems to give away as gifts or take home and use everyday.
DALE LAMBERT
Dynamic blues, red, orange, teal and yellow make Dale's statement wheel thrown vessels come alive..  Gorgeously smooth yet textured in application, there is little wonder they have won the artist numerous awards. Displayed in groups or as an accent shape, they are every interior decorators 'must have' for contemporary homes.
DRURY BRANDT
It is the tactile experience of the ridges, edges, crevices, planes and grain of his work, alongside his visual vocabulary, that affirms Brandt as a master at guiding whatever random occurrences there are in his material and technique, to a perfect conclusion in an imperfect form. Brandt's sculptural vessels are dramatic and expressive and an inspiration to us all.
EUNICE BOTES
Paying attention to the small detail that surrounds her on their bushveld farm inspires not only the subject but the fine texture in Eunice's beautiful etched porcelain vessels, vases and bowls. Each piece is individually carved into, then etched and filled with oxides and stains to highlight the design, before given a gentle and patient sanding back to smooth out any hard edges. Little wonder that this truly African inspired range has won the artist many awards for her work.
EYLENE CLIFFORD
We love the fresh approach and enthusiasm that Eylene brings to her range of porcelain ceramics. Each bowl, vase or platter is individually hand made and pressed into using cotton thread stitching to create her designs.
IAN GLENNY – DARGLE VALLEY POTTERY
KZN is home to a very special man and potter, whose life legacy lives on through his work .. Everyone should surely visit with him in his rabbit warren studio at least once in their lifetime. We have a few select pieces of Glenny's work alongside pots from his studio studio assistant, Richard, who throws a cross section of pots under the guidance of Glenny, whose alchemy still shines through.
JAZZ JAGGER
Outrageously zany vessels that you simply cannot resist, are the work of newcomer to ceramics, Jazz Jagger. We love her attention to detail with the gold leaf trim  and added clay shapes.. and we look forward with much excitement to see what develops with this quirky functional range.
JO ANNE KUTER
We love how Jo Kuter interprets her passion for patchwork into her vibrant porcelain pots with striking blue design. Each one is formed and hand-painted by the artist making them a perfect gift for someone special.
JOHN SHIRLEY
Pushing the boundaries of translucency in his china clay body and soluble salt decorative markings, ceramic artist John Shirley achieves the most beautiful of clay vessels that have won him many awards and accolades.
KAREN VAN DER RIET
Hints of Monet's paintings ripple through the complex layers of barium glazes.. forming intricate patterns  enhancing the simple little thrown porcelain shapes. How can you resist adding to an ever expanding collection of these beautiful pieces ?!
LOURETTA MARAIS
Fresh salads and a selection of antipasto comes to life on these knockout platters by ceramic artist Louretta Marais. Each individually layered with fine texture patterns then overfilled with a wash of colour. Add to the table her range of smaller plates and bowls for a sumptuous spread.
LYDIA HOLMES
Powerfully curious ceramic sculpture series titled 'Dressing for the Bishop's Ball' are characters based on religious figures painted by the great Italian masters. Depicting their complex lives, often hidden from our world,  Holmes asks the questions about the mystery that surrounds their closed communities.  Her sense of humour and wanderings sees these ecclesiastical figures dressed down and out of their comfort zone.
LYNETTE MORRIS-HALE
With a quiet and unassuming manner, Award winning artist Lynette Morris-Hale is an inspiration and motivator to many who attend her weekly classes in clay or are guided by her enthusiasm as KZN Chairwoman of Ceramics Southern Africa. With her vast array of 'texture' tools, coloured stains and oxides, she unlocks creative talents and explores new ways with clay for her own range of work.
MADODA FANI
Voted 'Best on show' in the 2015 Gauteng Regional Ceramic Exhibition, Madoda Fani and his statement carved hand coiled ceramics are making headline news … To balance out this time-consuming method of making, Madoda creates a range of delightful smaller hand thrown vessels that still carry his trademark attention to detail and intricate glaze application.
MARGOT RUDOLPH
Combining an Afro / European colour palette and well proportioned geometric design into her functional ceramic range has become the signature of ceramic artist Margot Rudolph. Her quirky range of teapots, milk jugs, sugar bowls and spoons are collected by many and put to use every day.
MICHELLE LEGG
Bold statement hand coiled vessels are the signature of Michelle Legg. With a Masters Degree in ceramics and many awards to her name, Michelle considers symmetry and good proportion as important elements to her work.
MESHACK MASUKU
We love how ceramic artist Meshack Masuku dedicates his time to mentoring others in the rich tradition of studio pottery.  His studio is located in the Eastern Cape and in collaboration with other artists that he has mentored, he continues to produce quality hand made functional pottery at an affordable price.
MONICA VAN DEN BERG
Central to Monica's statement clay work is humanity, and most notably, the human head, the centre of thought, reason and creativity. Her bold geometrically patterned sculptures reflect a relationship between the maker and her medium of clay.
NIC SITHOLE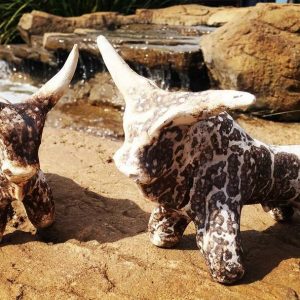 Whether it be throwing large clay pots and over-sized bowls on a wheel or traditional methods of hand coiling clay vessels, ceramic artist Nic Sithole is 'pure genius'  of his craft.  His matt black bowls are contemporary in design, yet still hint of the artists' roots in Africa… Nic also produces a range of individually hand formed, quirky beer fired oxen which are a tribute to his younger years spent herding cattle – each one receiving its own unique individual markings from the hot beer batter.
NICI BROCKWELL
Inspired by the life that surrounds her, artist and former fashion designer, Nici Brockwell carefully hand forms her porcelain bowls and vessels giving them a signature all of their own. Each one tells a story with multiple layering of texture, hand painted design and gold leaf detailing.
OLIVIA VILLET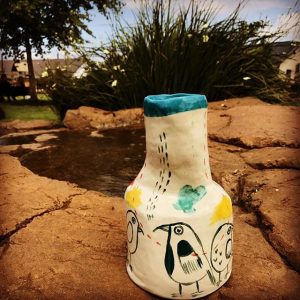 It's not often that you meet a ceramic artist who started out her career with an honours degree in Children's book illustration… alongside a publishing contract and an award for 'Best Newcomer'… A delightful tale indeed. ! It's only apt then that Olivia chooses to decorate her handmade range of bowls, plates, jugs and vases with the same naivety and joy that she does her books. Look out for her illustrations too in 'Chester's Big Surprise', 'The Chicken House' and 'There's a mouse in my house' alongside many more from this talented gal.
PHUMLANI NYAWO
You can see by the way his eyes light up when Phumlani talks about sculpture, that this is where his heart lies… His range of bulls and Nguni cows are first fired in an electric kiln, then pit fired using porcelain clay resist and burning paper shreds to create random smoke markings.
RALPH JOHNSON
Contemplative layering of glazes and skillfully thrown porcelain shapes make up a range of collectible ceramics from the studio of Award winner ceramicist Ralph Johnson. In 1983 he received an Honours degree cum laude and later went on the attain a Masters degree in Ceramic Design. Ralph's work is constantly evolving with new and exciting pieces on the go at all times.
RICHARD PULLEN
Bathhurst potter, Richard Pullen, uses a variety of pit and saggar firings for his gorgeous thrown shapes and vessels.. resulting in random and spontaneous markings on the silky smooth clay surface.
SANDY GODWIN
Using an assortment of antique lace stockings she has collected the world over, ceramic artist Sandy Godwin 'dresses' up her perfectly formed porcelain vessels. Using oxides and stains, she skillfully transfers the patterns as a symmetrical surface layering whilst still allowing the light to shine through the clay. Displayed individually or in a group setting, these vessels bring joy and harmony to your home.
SANDRA GOERCKE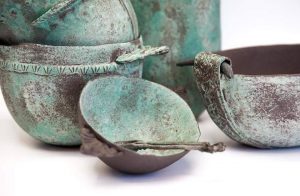 Sandra Goercke's gorgeous collection of little vessels and spoons are like little treasures that hint of old. Collected by many and given away as special gifts, these works are a real joy to own.
TRACY-JANE VOSS
"Basil fell in love with cooking the first time he had a Bunny Chow in Durban. The name terrified him but the taste didn't." Such is the humour of the collection of hand-crafted ceramic bunnies by artist Tracy-Jane Voss, whose previous career as a dancer and performer helped inspire these delightful one-of-a-kind characters.
TRAYCI TOMPKINS
Trayci slowly hand coils, pinches and paddles her pots into life, before subjecting them to the heat and flames of her specialist sawdust and Raku firings. Her sculptural pieces hint of the Theatrical world in which she trained and often include patterns carved into lino, and imprinted into clay slabs.