BRYAN CUSACK
Artist Bryan Cusack has become well known for his over-sized sculptures of extraordinary people, heroes and legends constructed out of driftwood collected along the beaches of our Transkei coastline. This remarkable work is often inspired by his interpretation of 'how a piece of wood bends in a particular way' … keeping each piece fresh and original.
GUIDO VAN BESOUW
It's between the intense heat of the molten glass in the kiln and the rapid cooling of the glass that Guido creates his magic… His rhythmic layering of coloured glass rods stretch across the landscape of his creations, combining skill and artistic intervention into statement vases and wide glass bowls.
MARKE MEYER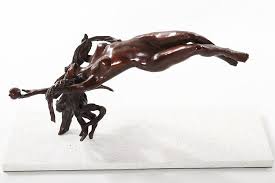 Poetry in motion.. could best describe the Bronze sculpture of Marke Meyer whose interest in photography and human form has helped inspire his body of work. The ability to Capture a movement in time, that magical space without restraint or restriction, allows the artist the freedom of exploration for each intimate bronze work.
SIT IN ART… DESIGNER CHAIRS
These original, inventive and comfortable statement chairs are inspired by beautiful design using rich and tactile hand picked fabrics. Statement limited-edition sit-in Art, that will add a complete wow factor to any interior. View them in our short video clip below.